We digitize and embroider designs for anyone and everyone! We have worked with: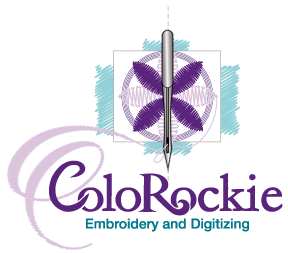 Individuals, small businesses and corporations
Major and minor sporting events, both locally and worldwide
Major and minor broadcasting networks
Various state, county and city law enforcement agencies across the nation
Fire departments across the nation and many other very familiar logos
Veterans Affairs
Our Work Is Not Complete Until Our Customers Are Completely Satisfied!
Place your order online or Call Us Anytime between 9AM – 5PM!
(720) 333-1310
Our Services include and are not limited to:
Master Digitizing
Illustrative Embroidery – extremely detailed as a drawing
3D Puff Foam
Tackle Twill(Jersey Lettering & patches-precision cut by laser)
Applique Embroidery & Digitizing
We specialize in high quality custom embroidery digitizing and expert embroidery production.
Our focus at ColoRockie Embroidery & Digitizing is being the best in the industry and treating every customer as our most valued client. We stand by our work and customer service with our Guarantee.